SW - Effektive side panel cleaning
SW1000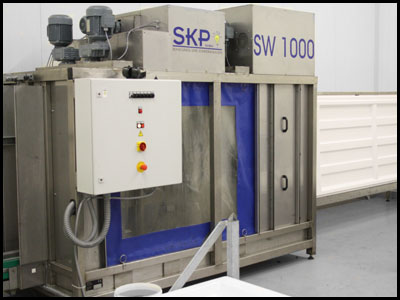 Up to now, the cleaning of solid side panels requires a good deal of manual work. The dimensions of the panels as well as their shape do not make them easy to handle. The manual way of cleaning, however, is extremely elaborate and requires a disproportionally high expenditure of time and personnel. The new SW1000 is supposed to support the effective cleaning of solid side panels. Thanks to its design it may also be used for cleaning floor panels, provided that these obey certain conditions and restrictions.
More information
The throughput of SW1000 can be adjusted between 1 and 10 meters per minute. The optimum throughput lies at approx. 4-6m/min. At this speed, also a user-oriented handling is possible. The panels get cleaned, rinsed and dried, with two different catch tubs being used for both the cleaning level and the rinsing level so that the two liquids will not intermingle in concentrated form. Then the drying procedure follows. During this procedure the panels travel through a blower unit fed by high-pressure radial blowers, thus providing an optimal drying result. The machine has to be adjusted to the elements to be cleaned. With some reservations, SW1000 may also be used for cleaning other elements like glass elements, floor panels etc., but it may also be used for tables and other flat parts that can be transported upright. The optional high-pressure unit with water circulation system allows additional pre-cleaning for extremely soiled items.
Technical Data
Type of controll: automatic
Processing width: 3.000mm
Operators: 2
Flow rate: 300 m/h
Power supply: 32 A/ 400 V
Power consumption: 10 KWh
Water supply: 3/4"
Water consumption: 200 Liter
Dimensions (WxHxD): 8.000mm x 2.400mm x 1.800mm
Weight: 1.500kg
Drain connection: 100mm
Options, variations and accessories
W

Water recycling

H

High-pressure cleaning

T

Conveyor belt extension

D

Speed control for the brushes

V

Vertical cleaning
Water recycling affords to use waste water or rain water to clean the side panels eco-friendly and save money.
With this option it is possible to activate a high-pressure cleaner to clean very dirty panels.
The transportation route gets extended. After the cleaning process the panel does not fall out of the machine but gets catched by a band-conveyor. This is useful in case there is no employee at the machine.
The speed control for the brushes affords to sprint the brushes and save power if there are almost clean panels getting cleaned.
The vertical cleaning describes the movable brushes moving up and down automatically. Thereby it is possible to clean difficult notches. This option got specially developed by SKP GmbH for a customer and we would like to advise you on the necessarity of this option for your company.